BaseTek PoxyBase® non-metallic, polymer composite, frame mounted pump bases are designed for frame mounted / long-coupled ANSI/ASME pump combinations. Available in 16 models to accommodate all NEMA motor frames. Custom configurations to accept ISO pump and IEC motor combinations are also available.
Long-coupled frame mounted combinations

Meets ANSI/ASME B73.1-2001 standards
PoxyBase Features

Available In 16 ANSI/ASME Sizes
Save time with off-the-shelf delivery for B73.1M-2001 Model Pumps

Leveling Holes
Speeds installation with threaded holes as standard

Corrosion Resistant
Eliminates maintenance and upkeep

Grout Hole
Meets ANSI/ASME specifications for full compliance (may be omitted)

Integrated Drip Pan
Provides additional containment with drain connection (may be omitted)

Flat Surface To 0.002"/Ft.
Speeds alignment and eliminates soft foot for a reliable installation

Stainless Steel Inserts
Reduce corrosion and cast in place to prevent pull-out (options available)

Custom Hole Patterns
Quick and Easy to Install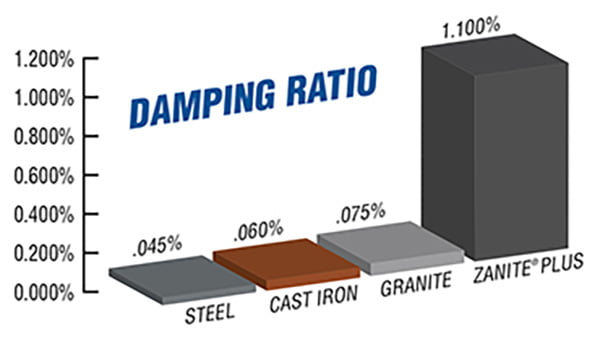 Benefits of Zanite Plus
Zanite® Plus replaces traditional materials such as iron, aluminum, and steel used in the manufacture of machine bases. Castings are manufactured to finish tolerances, and the resulting base out-performs alternative material in many areas.